Forex Enigma EA is a new trading software developed to trade the EURUSD forex pair exclusively on MT4 trading platform. The Forex Enigma EA comes in 3 packages namely Basic, Standard and Professional. The Basic package costs $149/lifetime license, the Standard package cost $199/lifetime package and the Professional package costs $249/lifetime license. The recommended leverage is 1:100 and minimum deposit can be as low as $10 on a cent account.
What is Forex Enigma EA (forexenigma.eu)? Either is Forex Enigma EA scam or legit?
Forex Enigma EA Review
Forex Enigma EA is a program that claim to automate Forex trades. It's like putting a plane on auto pilot. Traders can sleep through the night calmly knowing that their trades will be placed exactly at the times they designated. Sounds easy, right?
Forex robots like Forex Enigma EA are getting a lot of hype of late and Forex robot scams are not far behind.
Most Forex robot scams are easy to pinpoint and would seem obvious to any investor. But even with blatant false promises of huge profits "while you sleep" millions of dollars are dropped into these Forex robot scams every day.
Forex Enigma EA Developers
Forex Enigma EA vendor stated so much about the software itself but fails to tell about who and where the developers are. We could not see important information about their trading experience in the marketplace.
Forex Enigma EA Strategy
During our reviews of Forex Enigma EA, we saw that the vendor did well to provide important details on the software methodology. Aforementioned, the robot recommends 1:100 leverage on a reputable MT4 brokers. EA trades best on EURUSD forex pairs. We saw that the robot works with a couple strategy including scalping, trend and grid management system.
Forex Enigma EA Results
Forex Enigma provided a single FXBlue account with  a couple og Backtesting result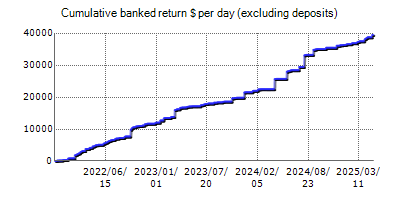 The problem is that Forex robots are run based on automated mathematical algorithms, not taking into account things like market conditions that vary with political issues, weather and other factors. The inconsistency of the market is impossible to program into a robot, and therefore the results of Forex robots are inconsistent as well.
Conclusion
Because Forex trading is still relatively unregulated, the number of scams seem to be ever-increasing. One area in which this happens on a regular basis is with automated Forex trading bots. Many of the systems make some pretty unrealistic claims, and promise a successful trading career, even when you're asleep. They even seem to be able to publish positive results on their sites. However, a word of warning: These amazing results are often the result of back-testing, or based on hypothetical results
Check out these highly recommended trading tools because we believe they can change your trading journey>>